Digital assistant - Customer self-service 24/7
A chatbot that creates exceptional customer support. And save a lot of costs.
Inovia Customer Care is a data driven virtual assistant who enables an intelligent, human-like dialogue between customers and your brand.
With a rich set of features, including the ability to understand complex inquiries, ask clarifying questions and personalizes responses, the digital assistant helps companies to deliver a superior customer self‑service experience.
You can ask the digital assistant anything! Here we ask why the GPD is increasing.
It all comes down to availability.
Simplify and streamline your customer interactions with you. Inovia Customer Care makes you available when your customers need you.
Reduces human work up to 90%.
Many customer support centers are drained with the very same questions, over and over. A Virtual Assistant resolves that.
Let your customers choose channel.
Inovia Customer Care is handles all communication types, chat, email, phone and all social media.
By being where your customers are helps you nurture your brand.
Artificial and human intelligence at the same time
A Virtual Assistant that learns from you.
Background
Many companies and authorities have noticed a clear trend with increased number of incoming calls and e-mails. For a while now it has been two types of digital assistance; manned chat bots and rule based virtual assistants. Their services have significantly facilitated digital communication between customer and supplier.
Challenge
Unfortunately, these types of chatbots require continuous maintenance, constant need of staffing and further development of the chat content; which also means the considerable requirement of employment.
Inovia's solution – We added algorithms
Inovia has developed a fully data driven virtual assistant that only needs one initial effort to become 100% independent.
Upon installation you feed the AI engine with relevant knowledge in the form of fact sheets, information documents, installation guides, etc. which lays the basic knowledge the engine later builds on.
The virtual assistant becomes more intelligent the more it's being used and learns to interpret the key message of information. It will formulate own replies based on knowledge that is constantly being developed.
Empower your patients and take the workload off doctors and nurses by letting Inovia's intelligent virtual assistant do the time consuming administrative communication.
Help people help themselves
Inovia's chatbot is a smart designed virtual assistant who will reflect your company's unique image and tone, resulting in a strengthened brand. It's trained with different sets of skills depending on industry, to support your business. The more it's being used, the smarter it gets.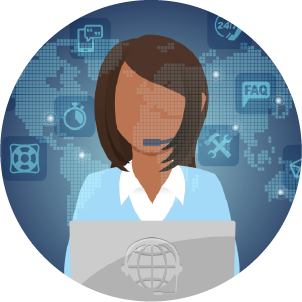 Be available when your customers needs you! By offerering 24/7 support with an intelligent chatbot will improve customer experience. Leverage data and be able to automatically analyze outcome of all conversations to better understand your customer.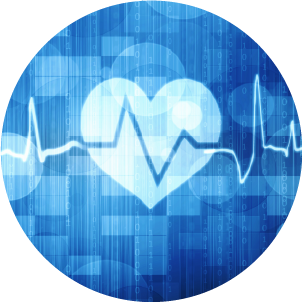 Empower your patients and take the workload off doctors and nurses by letting Inovia's intelligent virtual assistant do the time consuming administrative communication.
Our chatbot helps in the screening process for new hires and also making the onboarding and training a truly self service process.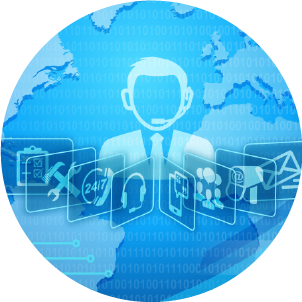 Inovia Intelligent Digital Manuals
Supports staff in complicated work tasks with intelligent support. Or serve your customers with smart digital manuals, by a virtual assistant that understands what the customer is asking for.
Cognitive abilities just like a human.
Our AI-based digital assistant not only identifies words but also interprets the underlying meaning of a conversation – with ability to read between the lines gives you the real information.
Sentiment analysis classifies an opinion or value. It describes if a conversation is positive, negative or neutral.
Word cluster analysis identifies keyword density. That means analyzing significant words and expressions that occur during a conversation.
Automatic Subject Classification
Automatic subject classification gives you a list the relevant topics of the discussion.
All ongoing calls are transcribed immediately and can be followed and analyzed  in real time.
Reflex Response is a function that can connect to other third-party services such as Bank-ID, showing video, booking services, map features etc.
Intelligent Cognitive Summary
Intelligent cognitive summary gives you an intelligent short description of the conversation.
Retrieves and visualizes structural information with plain text.
The truly intelligent assistant
A bot that learns, understands and keeps up with everything your customers do.
Chatting with Inovia's virtual assistant feels like a natural conversation.
The virtual assistant's ability to understand complex questions ensures that your customers receive the right answer, always and no matter where they are.
It recognizes the intent of your customer's inquiry with high accuracy, personalizes responses based on context, and troubleshoots using conversational strategies like answering social questions, reacting appropriately during customer frustration and escalating to a live chat agent, if needed. 
Adding external media.
By enabling third party content as part of your customer engagement, you can target your visitors with videos, offers from other systems and more – and give them a truly personalized online customer service experience.
The smart assistant. Easy to optimize to any business.
By utilizing a combination of machine learning and Natural Language Understanding enables our AI-engine to be trained with industry specific knowledge and your unique business data for a faster time to market with a more confident virtual assistant. 
By observing the human colleague's conversations with your clients the new information is automatically fed back into the system making the virtual assistant smarter and smarter over time.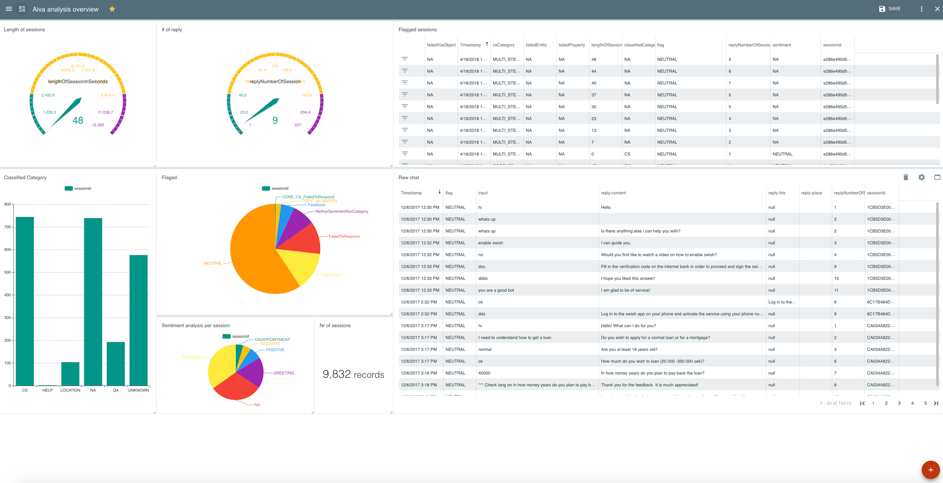 Easy design your own graphs, speedometers and pie charts.
Make it neat.
The analytic dashboard has a clean design that lets you create pretty much any type of business dashboard you need.
Make it relevant for your workflow.
Whether it might be an executive-, operational-, analytics-, marketing-, or finance dashboard. It's very simple. Place the graphs, speedometers, pie charts where they support your analysis.
We designed the user interface so simple that anyone can do it.
You can easily train the digital assistant through three different options:
Write instructions
Write direct instructions. For example: next time someone type x answer y, z.
Import documents
Import documents in various formats Word, Pages, PDFs, etc.
An url address
Enter a link to a website, the  virtual assistant will then retrieve the information by itself – from the intranet, a webpage, Wikipedia etc.
Advanced technology that comes in pairs.
No 1 – collecting data to build it's own knowledge.
The first is a number of proprietary unique technologies and AI algorithms that enables information retrieval from both structured data (such as databases and traditional data register) as well as unstructured data (different types of text-based documents) to provide an answer to a user's question formulated in natural human writing.
Depending on how the range of text or facts found is formulated, dialogues can be created where users are guided step by step for a solution to their question.
No 2 – understanding the true meaning of the question
The second part  consists of an advanced language understanding, that interprets the user's sentiments and intentions and picks users' questions to other information retrieval techniques, and compiles the retrieved information into a user-friendly format. In addition, access to external communication services can be linked whereas information can be retrieved and sent as a response from users' calls.
Bi-lingual
Our AI model supports Swedish and English, work is ongoing for launching additional languages.
We have subscription plans for all sizes of business.
Choose the technology environment that suits your business.
Inovia SaaS Service
Our own Cloud Service enables fast start-up and full utilization of functionality. It doesn't require any maintenance and includes all updates and improvements to language models.
Our state-of-the-art data center is located in Sweden.
Optional Cloud provider 
We deliver to a Cloud provider of your own choice.
On premises
Use your own servers and install inhouse (Docker, virtual servers).
How do you determine what solution is best for your business?
How to define a use case to know what your goals should be? We'll help you sort out and set up a strategy.